PappaRich Surfers Paradise
Malaysian hawker food restaurant
Our story began with a simple idea: to create a modern version of the traditional coffee shops in Malaysia.
We want to give our customers a taste of Malaysian culture and cuisine, whether through a plate of Nasi Lemak or a crunchy, buttery Roti Canai, all with a cup of Teh Tarik – or any one of our more than 50 drinks on the menu!
Our delicately crafted dishes never fail to deliver bursts of flavour and colour because we use only an authentic mix of herbs, spices and fresh produce, cooked according to traditional recipes. From the fiery sambal of the Nasi Lemak to the silky smooth Curry Laksa broth, from the savoury Satay to the unforgettable Char Koay Teow, our food reflects the balance and harmony of the different cultures in Malaysia that have combined to give us the distinctive, unique taste of Malaysian cuisine.
Here at PappaRich, we aim to deliver authentic and quality Malaysian food to all our customers, and to be a brand that is genuinely Malaysian..
PappaRich Group was established in 2005 with its 1st outlet in Kuala Lumpur, Malaysia. Today, PappaRich has grown extensively and with a total of 70 outlets in Malaysia and continuously growing rapidly internationally. We are emerging as a formidable player in the local and international food and beverage industry.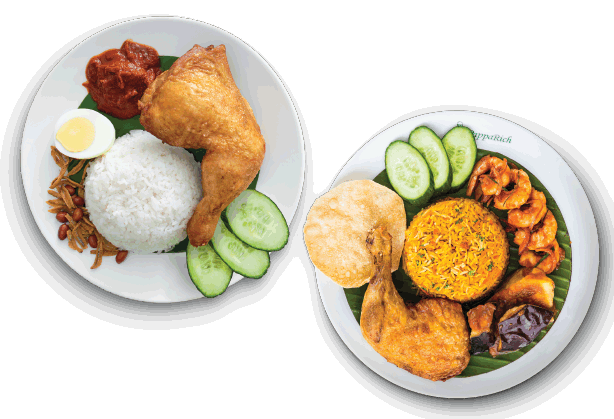 The popularity of PappaRich internationally, is attributed largely to the introduction of its high quality food offerings such as freshly-made Roti Canai, traditional Hainan bread with Kaya and butter, Satay, Nasi Lemak, Fried Kuey Teow, Curry Laksa, Asam Laksa, Chicken Rice, Prawn Mee, Mee Goreng, Ice Kacang and many more!
We only use high-quality ingredients to bring out the best in Malaysian Delights.
With our open concept, you are able to see the Pappa white coffee, Roti Canai being prepared on the spot, adding a whole new dimension to your dining experience.